Hey all, hope you've had a good week. Most likely better than Paul George, NBA star who suffered a horrendous injury and caused even more horrendous jokes on Twitter.
Soooo many great, original Paul George jokes on Twitter today. Here are my top ten favorites: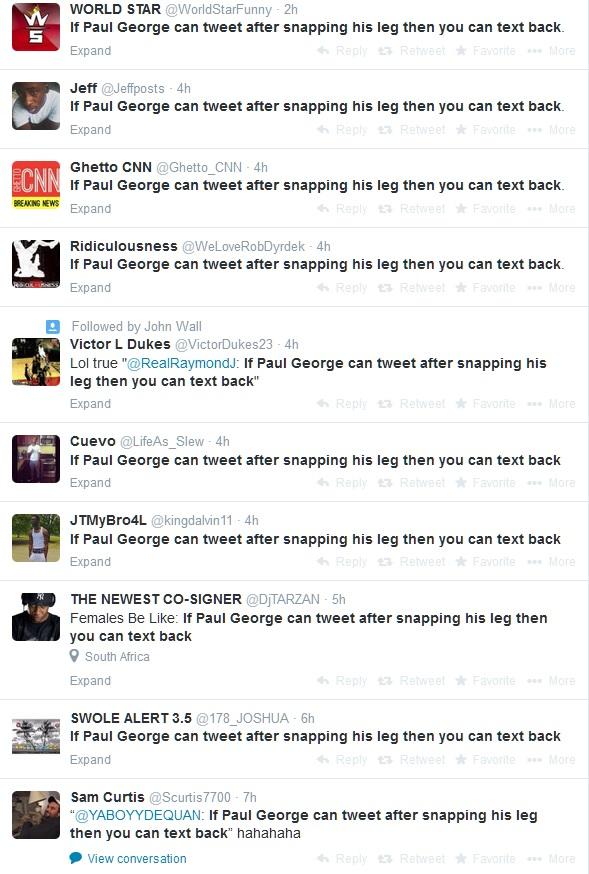 SPEAKING OF BIG BREAKS (segue):
Catch Matty Litwack (@matty_litwack) tonight on "Laughs" at Midnight E.S.T. on FOX. @LaughsTVShow
Here's an interview with him here:
http://www.myfoxdc.com/Clip/10425351/comedian-matty-litwack-featured-in-comedy-roundup-laughs
Kudos to hopefully the world's second most famous Matisyahu.
And now back to the tweets:
I'm at the gym. It doesn't count unless I tell you people. Fact.
-This also applies to mud runs and relationship statuses.
If I were a hearse driver I would totally interrupt marathons. Because what are you joggers gonna do about it? Nothing. That's what.
-They'd call the race…..a dead heat.*
*Puts head in oven
scrolling thru a Facebook newsfeed is like eating a giant bag of chips: you think you're in ctrl & then you reach the bottom wrecked & alone
Love is being able to be comfortably quiet together as you both look at your phones
– You're the best match for me in the GalaxyS4. You and me is 4sEver! Our love is Unlimited (minutes.)
44-year-old dude with a chain wallet, WHO HURT YOU?
-Actually, it's Judd Nelson.
If you invite me to a christening I'm going to yell Worldstar when the baby gets dunked because I'm an American and it's 2015
-Yo, you got baptized, SON!
It is rumored that women like foreplay beyond the first time you try to have sex with them.
-You've done the "it" more than once?
Brag.
White people bump hip hop at really inappropriate times and places but then turn their stereo down when driving through the ghetto.
The only women that hit on me can see ghosts or think they are cats. Which is cool, but I don't really like cats.
-If you think about it, Buddhist cats believe in life after death after death after death after death after death after death after death after death after death.
And my contribution for the week:
If actor Mark Ruffalo doesn't call his family reunions "Gathering of the Ruffalos," he's missing out.
RT= Love. Sharing is caring. Pass it to your friends like Hep-C.
See y'all next week,
Jon Yeager